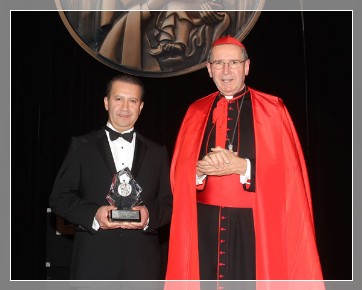 Cardinal's
Dinners Award
Love God, serve God: everything is in that. —St. Clare of Assisi
The Archdiocese of Los Angeles is blessed that once each year, over one thousand people gather to celebrate five enormously giving people who love and serve God and their fellow man in extraordinary and different ways. The evening is the only one of this dimension in the United States.Cardinal Roger Mahony, Archbishop of Los Angeles, inaugurated the Awards Dinner as a way to recognize and honor members of the Archdiocese and beyond whose distinguished service to their church and community has enriched the lives of others. In over two decades the evening has saluted the good work of one hundred people and raised over $7.5 million dollars designated exclusively for the poor. On Saturday, February 6, 2010 a beautiful collection of special people gathered to celebrate the goodness of others. The intended consequence of this gathering is to reach out financially to help those who are thirsty for a Catholic education and a better life. Be part of a tradition, connect, be welcome, be there.
Ama a Dios, Sirve a Dios: todo esta en eso. —Santa Clara de Asís
La Arquidiócesis de Los Angeles tiene la bendicion que una vez al año, mas de mil personas se reunen para celebrar a cinco personas que generosamente, aman y sirven a Dios y a su projimo de maneras extraordinarias y diferentes. La noche es la unica en esta dimension dentro de los Estados Unidos. El Cardenal Rogelio Mahony, Arzobispo de Los Angeles, inauguro el Awards Dinner (Cena de Premios) como un modo de honrar a los miembros de la Arquidiócesis y de mas alla, el cual su distinguido servicio a su iglesia y comunidad a enriquecido las vidas de otros. En mas de dos decadas la noche a rendido honor al buen trabajo de cien personas y a recaudado mas de $7.5 millones designado esclusivamente para los pobres.El Sabado 6 de Febrero del 2010 una colección hermosa de personas espciales se reuniron para celebrar la noblesa de otros.